Testimonials
Stories…
A Light That Can Make Her Feel Like a Princess
"My 7-year-old is the light of my life, and she loves all things princess-related. One thing she didn't love so much, though, was bedtime. Anyone who's ever had a kid knows what I mean. Every night felt like a struggle, especially when storytime ended and it came time to turn off the light.
"A couple of months ago, I thought I might try to sweeten the deal a little bit. We already had a SmartThings setup and Amazon Alexa in the house, so I bought an extra SmartThings Outlet and plugged in her nightlight. Now every night after storytime, she grabs her fairy princess wand, and says, "Alexa, turn on the princess light!" and, like any loyal subject, the light obeys her command. Now she looks forward to bedtime every night, and we all go to sleep smiling."–Brian
A Busted Pipe in the Middle of the Night
"We just bought a new house (on the east coast) a few months ago and decided to really invest in the SmartThings Hub and products to fully automate our home. We have light switches, locks, a garage door sensor, and other items–52 items in all. Thankfully, we had already automated the locks and garage door before December.
During the first week in December, I was traveling to the west coast while my boyfriend was traveling in the northeast. I received an email just before I went to sleep from the old owners of the house saying a neighbor called them and that there was an emergency at the house.
It turns out that a delivery truck was dropping off a package pretty late and ended up hitting our well–causing the pipe to burst under ground and causing the well to drain all of its water out. I was able to contact my neighbor and using the SmartThings app on my phone and let him into my garage where he could turn off the breaker for the well pump. This was at 12:30 a.m. SmartThings not only saved us from the well drying up, but this is also one of the only home automation products available that has a WindowsPhone mobile app that worked as well." – Christine
Monitoring What Matters Most
Jordan and his wife had been using SmartThings to gain peace of mind and to make their lives more convenient. Then one day while Jordan was at lunch, he got a notification that caused him to panic.
---
"I've had a SmartThings home automation system for about a year now. I liked the idea of being able to control my house from my phone, but I love the idea of my house reacting to us and letting us know proactively about what's going on.
My then fiancée (now wife) and I bought smart outlets, door sensors, motion sensors, moisture detectors, smoke alarms, and even a siren. It was great knowing who was at the house, whether or not the garage door had been left open, to be greeted by lights that turned on when you arrived home at night, and to be able to turn those lights off with your phone when you remembered you had left them on after you had already laid down in the bed.
SmartThings made my life easier. A few weeks ago, SmartThings went beyond being helpful into being a necessity to protect my home and loved ones.
SmartThings made my life easier. A few weeks ago, SmartThings went beyond being helpful into being a necessity to protect my home and loved ones.
I was at lunch with a coworker when I received an alert on my phone that my back door was open. It was the middle of the day, so the only "person" home was my dog, Figment. I immediately called my wife to see if she had gone home early that day. She was still at work. I quickly used the SmartThings app to turn on the siren in the house and my wife called the police. The police arrived quickly and let us know through our neighbors that everything was okay in the house.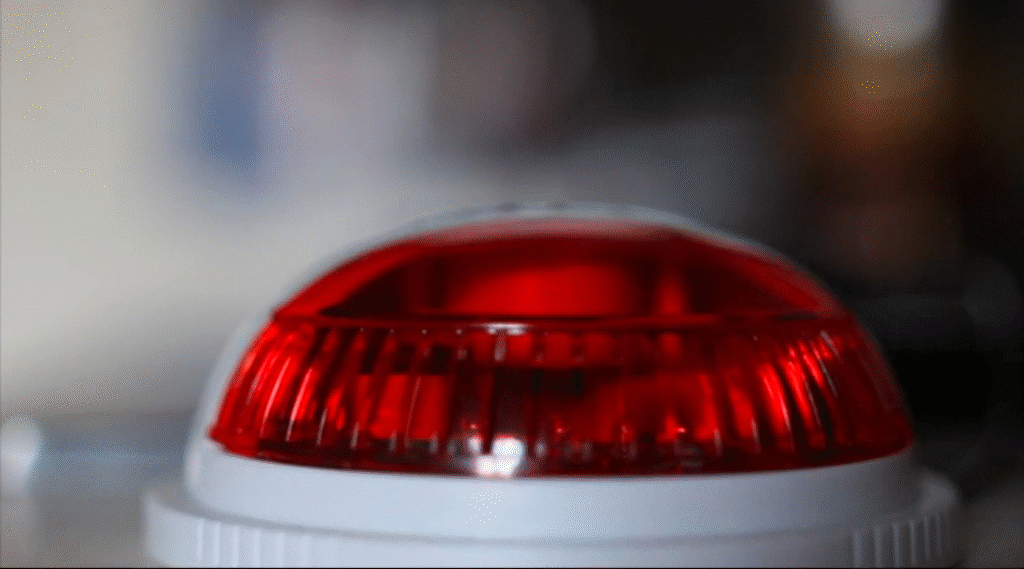 I arrived home shortly after to see what damage had been done. Thanks to the alert we received, it was minimal. It appears that the burglar had just made it to the bedroom (where Figment was put up in her kennel!) when the siren went off and they fled. He was able to grab a single jewelry box (with just a few pieces) and a wallet that was grabbed on the way out the door.
Yes, we lost some things. But without our SmartThings system, who knows what might have happened? The perpetrator could have hurt our helpless Figment. They could have taken Figment! We could have lost all of our valuable possessions. I shudder to think what could have happened.
I know this sounds like an advertisement for SmartThings, and in a way it is. I'm a true believer in this company. If not before, I definitely am now." – Jordan
How Our Family Uses SmartThings
"Our family lives in a full house with a lot going on: There are two parents, two kids, one cat, and one dog. We have been using SmartThings for about a year now to help keep our girls safe and keep our family on track.
I initially convinced my partner to let me start installing home automation as a way to make sure our basement didn't have a flood. We have a finished basement and I wanted to be able to prevent a minor flood from becoming major.
At the same time, I purchased two SmartPower outlets to automate our archaic light timers that we use. Setup was easy and things typically just work.
We then left town one day to visit family and I could not remember if I had closed the garage door. After several frantic texts and calls to a neighbour, they agreed to check on it once they arrived back home. But since they would be out for several more hours, had anyone walked by and saw my tools, power washer, or our kids' bikes, they could have easily been gone by the time our neighbours.
I started looking for a better solution to make sure I didn't accidentally leave the garage door open. I then received a SmartSense Multi sensor and an Evolve relay switch for my birthday and now have the ability not only know when the garage door is opened, but to close the garage door remotely. Hooray!! No more stressful family outings (due to the garage door that is…).
We also integrate Smartthings with our two Ubi speakers (one on each floor). We use Ubi as an intercom, to remind the kids of various things, give a weather report in the morning, or have it tell us things based on SmartThings.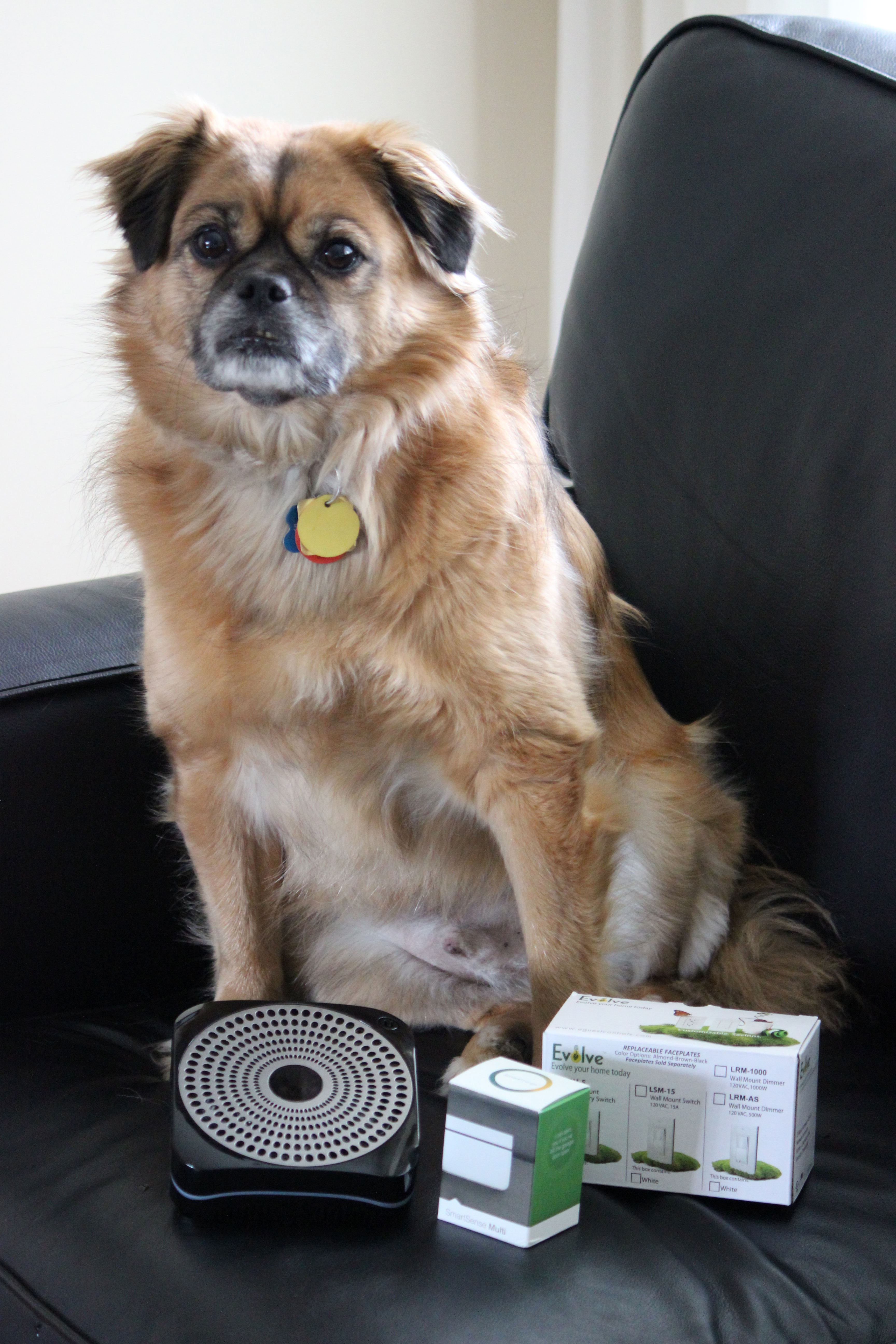 We have a dog who, when the opportunity presents itself, will take to galavanting around the neighbourhood with little concern for traffic. I had the awful experience of chasing him throughout the neighbourhood in my PJs and bare feet when someone left the gate open. I decided SmartThings could help me with this and keep our little (okay, medium-sized) pooch safe. Our backyard gate now has a sensor on it that when opened, plays a notification on our Ubis so everyone knows the gate is open. If the gate is left open for more than five minutes, UBI also lets us know and sends us a text. Initially for the dog, this also gives us peace of mind as we have a pool in the back yard.
Next up, I'm adding a sensor to the dryer so I can have UBI tell us when the dryer is done. It is in the basement and we often don't hear it!
We have been quite happy with SmartThings. My partner is tolerating my new smart home ventures well, which is a huge measure of success!" – Brooke
A Smart Chicken Coop
"About 6 weeks ago we lost 3 of our 5 free range chickens in a massacre by a mink.
My wife had those chickens for years and over that time she gave each one a name and kept track of them every day. They were also special to me since they provided my lunch several times a week: fresh egg sandwiches.
Well, that night both my wife and I forgot to close the chicken coop door and a mink walked in and ripped them apart, it was a bloodbath! He pulled them down off their perch one at a time and just gutted them, the coop was full of feathers. He only took one with him for food and killed the other two for sport.
A few days later my wife brought home five baby chicks, moved my car out of the garage and set them up in a tub with a heat lamp. She was not going to put them in the coop until I made improvements. I could tell she no longer felt like it was a safe place for her chicks, I had to do something.
Fast forward to today: My car is back in the garage and I have version one of our new chicken coop controller ("Coop Boss") up and running. My goal was to make a reliable and simple coop door control that would automatically close and open the coop door based on Sunset and Sunrise. Chickens (with religion) go into their coop just before sunset. They can't see well in the dark, so this is just Mother Nature working.
Now we use the SmartThings iPhone app to check on the door's status and close or open it. And if we forget to close the door, the Coop Boss will do it for us based on sunset. It's been working great. Oh, and we also have a Dropcam in the coop and use the SmartThings app to look in on them." – John
SmartThings Helps Catch a Burglar
"I spend half of the year in Minnesota and the other half down in Kansas, so I was interested in keeping an eye on things back home when I go out of town. I went to places like Home Depot and looked at a lot of proprietary systems, but I didn't like my options. I didn't want to put a lot of time and money into a full, complicated system–I just wanted a low-cost setup that let me expand later if I wanted to. When I found out about SmartThings, I knew it was the one for me.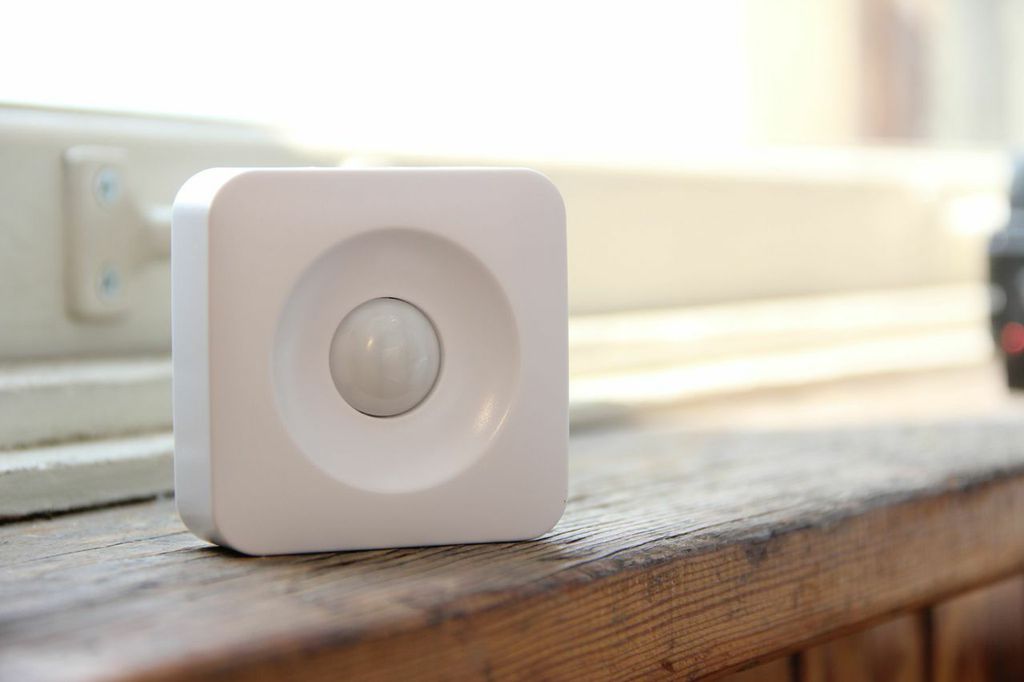 I was just about to head out of state for the winter, so I called your wonderful customer support team and Ryan went out of his way to rush me my order of two Motion Sensors and a Hub so that they arrived before I left. Let me just say that in nine years of spending winters in Kansas, I have never once thought that my house would get burglarized… but boy am I glad that Ryan rushed me that package!
Just before leaving my Minnesota home, I hid one of the motion sensors by a bookcase facing my front door, and the other in a corner of my basement facing the downstairs door and garage. I then downloaded a $3.99 app called Baby Monitor on my old 3GS iPhone and placed it by the downstairs motion sensor. It doesn't record video, but it gives you a live view of what's happening in your home. When paired with SmartSense Motion sensors, this can be really valuable. Let me explain how…
A few months later at 7:58 in the morning, I was reading the newspaper and drinking my morning coffee when I got a notification on my smartphone that there was motion in the downstairs of my home in Minnesota–nearly 700 miles away. I switched over to the Baby Monitor app and didn't see anything out of the ordinary at first glance. Then, I noticed that the door was slightly cracked open and there was a container on the table by the door. I thought 'Hmm… is someone breaking in to my house?!'
I called the police dispatcher to let him know that I thought someone had entered my home. As I was talking to him, the burglar came into view on the camera and I saw that he was heading toward the back door. He looked out the back window nervously, and just as he was about to leave, a bunch of stuff fell from his pocket and dropped on the floor. He must have spent a minute or so picking it all up. This bought me some time.
I called the dispatcher back immediately and said, "He's still inside and heading out the door soon. You better hurry!" When I looked back at the live video feed, he was gone.
Just three minutes later, I got another notification from SmartThings that there was motion in my basement again, except this time when I looked at my camera feed, my whole basement was filled with policemen and a police dog!
I got a call from the police who told me that they had arrived at my house (which I already knew!), and they asked me if the black van parked in the driveway was mine. I said it wasn't. They were being very cautious, because they weren't sure if the burglar was still inside my house. I let them know that my upstairs motion sensor hadn't gone off, so the house was likely empty.
The police then focused their attention from my house to the mysterious black van parked outside my house. They led their dogs from my basement to the van that was blocked in in the driveway. They broke open the doors to the van, and as soon as they did, my safe came tumbling out of the back of it and spilled onto the driveway. (Kind of like what you'd imagine in a cartoon.) The burglar apparently resisted, but quickly gave in after the canines approached.
When the cops finally went through the house to dust for fingerprints, they became mesmerized by my smart home setup. Even though I had cobbled it together in just a few days for under $200, they said they'd never seen anything like it!
It's funny, but the entire time that this was all happening, I was never once scared. In fact, I felt very much involved as part of the whole capture. I felt completely empowered. Even if he had gotten away, I still would have felt empowered because I did everything I could do. Not only did I notify the police, but I helped keep them safe when they arrived at my house and didn't know where the burglar was. I grinned the whole day afterwards!
I still can't get over how easy and inexpensive this whole thing was to put together. Just think: Had it not been for Ryan and your wonderful team who rushed me the Motion sensors, this guy would have gotten away!" –Susan
How SmartThings Saved the Day
You don't often think about the importance of humidity in the winter. But as frigid temperatures continue their grip on much of the country this week, we wanted to share a story from the Smartthings Community about a customer in Texas who figured out a way to keep his home's humidity level from plummeting as temperatures dropped.
"Winter has finally set in here in Texas, and last night was the first time our heater had to really work all night to keep the house warm.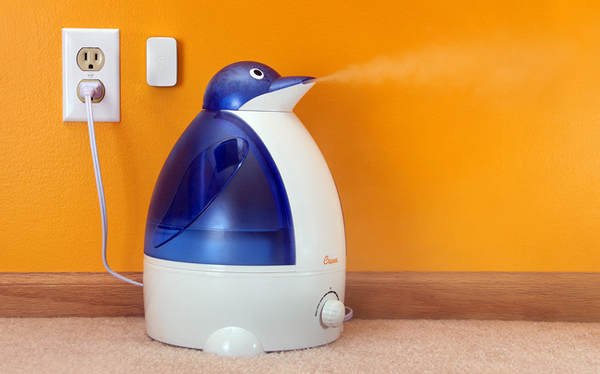 We do not have a built-in humidifier, and I woke this morning at 1 am with my mouth as dry as the desert. Shortly after waking, my 14-year-old son walks in with a nose bleed. Long story short, the humidity in our house had dropped to around 10-12%. (For some perspective, the humidity in the northern Sahara Desert hovers around 25%).
Within an hour this morning, I found a shared SmartApp that would turn a switch on or off based on a humidity sensor and had a functional system to regulate the humidity in our bedrooms using Z-Wave switches and humidifiers. Little solutions like these make the SmartThings platform invaluable." – Jody
Andrea Shares the Love with Ben
Ben:
Hey, I'm Ben. I just moved in to this house about a year ago with my girlfriend.
I'm usually the first one up in the morning, and I can tell my Fitbit with just a few taps that I'm awake. It tells SmartThings that it needs to turn on the lights and anything else I want it to do. It's really simple, I just use the "If I'm awake, turn on the lights" IFTTT recipe and it's like the house knows I've just woken up.
Andrea:
Hi, I'm Andrea, and I'm an interactive designer.
I really like using SmartThings to trigger the lights to come on and off. It gets really dark here in Minnesota, and I like to have a warmly lit house when I come home. I was actually the one who got the SmartThings Hub for Ben last Valentine's Day. I knew that he'd been pining for it for awhile. We're trying to build our collection incrementally to stay on a budget.
Ben:
We also find SmartThings to be really useful with our roommate, who has a very different schedule than us. So whether we're home, heading out the door, or at work, we can easily check in and make sure that a few lights stay on.
Andrea:
That's especially important for our cat, Monkey.
Trevor:
Hi, I'm Trevor, Ben and Andrea's roommate.
Yea, we've been having an issue with our bathroom fan where it's so quiet that we sometimes forget to turn it off when we leave and it'd be running all day. So we installed a smart in-wall switch that automatically shuts it off after about 30 minutes or so. And so now, no one forgets to shut it off and we're saving a bunch of money on electricity.
Ben:
We've been working on finishing our basement little by little. We had a wake up call awhile ago when we came downstairs and discovered that water had seeped in and there was some flooding.
Andrea:
We were lucky. We just had stud walls and no drywall or flooring yet, but I did have some of my charcoal drawings around, and the water got pretty close to them. It would have totally ruined them had they gotten wet.
Ben:
We realized that if we placed some SmartSense Moisture sensors near the lowest part of the house, we'd be able to know much sooner if there was a problem and hopefully it'd give us enough to fix it before it got out of hand.
A Burglary and a Plan to Get Even
When singer-songwriter Olga Nunes came back home one night, she found that her window had been smashed in and robbers had ransacked her apartment. Instead of panicking, she channeled her creative energy into building a fully robber-proof home using SmartThings.
"I came home a few weeks ago to find my door open and my window smashed in. In a panic, I ran in to assess the damage, phone in hand, and to call the police.
The strange thing was that nearly nothing was missing. A few things were, of course: some cheap jewelry, some loose cash, a backpack that was filled with vitamins, and charger cables that wouldn't do anyone any good.
But on the whole, the big stuff – the laptop, the iPad, the music gear – was all miraculously untouched.
I sat in the mess of my apartment waiting for the police to arrive, oddly scared to leave.
Because if I left, of course, the logic goes that they would return. They'd scoped the place out, and they'd definitely left the most valuable stuff behind.
It was the creeping feeling of vulnerability setting in that upset me the most.
I'm generally a human who deals with things with a sense of humor. So after some hand-wringing, I decided to turn my apartment into a robber-proof haunted Rube Goldberg machine.
I wanted spooky noises. Flashing lights. Voices and sirens, and the sort of thing that would communicate "hullo, robber, please reconsider your life choices," as well as perhaps filling Mr. or Ms. Robber with an eerie sense of dread.
Enter: SmartThings, stage left.
SmartThings, like most smart tech today, doesn't presuppose how you might use it. You're given a collection of sensors, and an app that allows you to trigger events based on those sensors.
For example, you can choose to turn on an FM radio, blink the lights, and randomly switch on your blender if your front door is opened when you're not home.
It's a little difficult to wrap your head around at first, but you can basically use sensor data from virtually anything to trigger virtually anything.
After some trial and error, I thought building an outright haunted house was maybe too subtle for the sensibilities of the average thief, so I opted for something a bit flashier.
Daisy-chaining SmartThings to IFTTT to Dropbox, I managed to set up a system that sends me photos of intruders, turns every light in the house into a flashing strobe, and triggers a playlist of terrifying sounds if an unwanted robber-human attempts entry.